Gelest, Inc. offers a wide range of metal alkoxides for use in sol gel applications.
Sol gel is a method for preparing specialty metal oxide glasses and ceramics by hydrolyzing a chemical precursor or mixture of precursors that pass sequentially through a solution state and a gel state before being dehydrated to a glass or ceramic.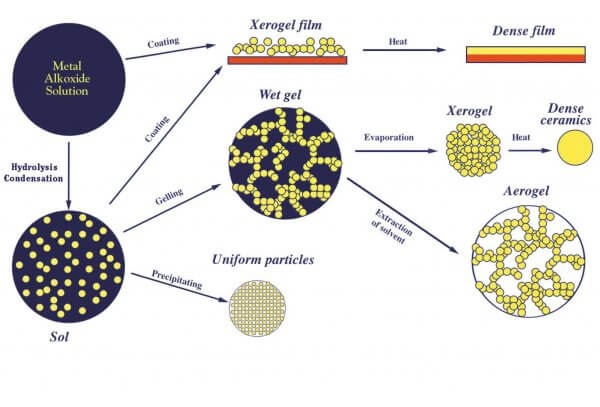 Sol Gel Process Technology and Chemistry (illustrated overleaf) Preparation of metal oxides using sol gel routes proceeds by three basic steps:
partial hydrolysis of metal alkoxides to form reactive monomers,
condensation of these monomers to form colloid-like oligomers (sol formation),
additional hydrolysis to promote polymerization and cross-linking leading to a three-dimensional matrix (gel formation).
Sol gel technology can be used to prepare fibers, microspheres, thin films, fine powders and monoliths. Applications for sol gel technology include protective coatings, catalysts, piezoelectric devices, wave-guides, lenses, high-strength ceramics, superconductors, synthesis of nanoparticles and insulating materials. The flexibility of sol gel technology allows unique access to multi-component oxide systems and low temperature process regimens. Listed below are some popular examples of sol gel precursors, and Gelest, Inc. offers hundreds of other alkoxide derivatives for metals of interest.